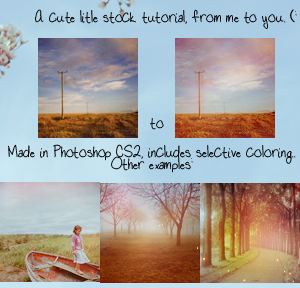 If any of these steps are confusing, I've included a screen cap of my layers to help clear things up. If you still have questions, please feel free to ask. (:
01. We start off by making a color fill layer. 6F503C, set to normal.
Now you duplicate your base twice, and drag it above the color fill layer. Set the first to multiply at 100%, and the second to screen at around 70%. You can change the opacity according to how dark or light your base is.
This step takes away some contrast from your base, and also adds a brownish tint to it.
02. Now I wanna brighten it up a little bit, but still keep that low-contrasted look. We'll do that with a curves layer.
Point 1: input 19, output 30
Point 2: input 144, output 166
03. The clouds have a pink tint to them, so make a new color fill layer.
180902, set to exclusion at 100%. This will make the sky bluer.
04. Next, a photo filter layer, to make the blue a little less harsh.
Use the Warming Filter (81), and 10% density.
*I'm pretty sure Photoshop 7 doesn't have a photo filter option, so you can just skip this step. It doesn't affect it that much, but being the perfectionist I am, I had to include it. (:
05. Now, a color balance to even out the coloring, and make it a little bit pinker.
Midtones: +15, 0, -10.
Shadows: -7, 0, +15.
Preserve Luminosity unchecked.
06. Now, the last of the coloring layers. I'm gonna be using Selective Color to make all of the colors really pop.
Reds: -50, +100, +100, 0
Yellows: +43, +25, 0, 0
Greens: -100, +100, +100, 0
Cyans: -45, +85, 0, 0
Magentas: -100, +100, +100, 0
Whites: +58, 0, -33, 0
Neutrals: -3, +4, +6, 0
*Some of these don't really make a difference with this particular base, but they really do with others, so I included them anyways. (:
07. Now, we're gonna move onto my absolute favorite part of icon making, using textures.
I used this texture by
dustypaper
.
I set it to Lighten at 75%, and added a layer mask. Fill it completely with black, and then paint white, using a very soft round brush, over the electric pole.
Next I used this texture, also from
dustypaper
.
set to screen at 100%. I used a layer mask on this one, too, making it only appear over the clouds.
08. I would say that we're finished, but I don't really like how murky it is. Remember that brown color fill layer from step 1? Go back to it, and make a Brightness/Contrast layer above it. I used the settings Brightness: +60, Contrast +25, but it all depends on your base.
My layers: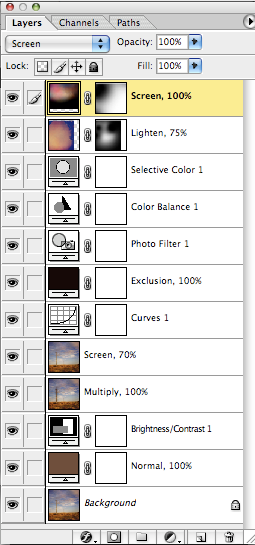 All the bases used in this tutorial were made by
innocent_lexys
.
Feel free to
join
this community, if you liked this tutorial,
and I'd love it if you would share your results with me. (:
feeling: accomplished
listening: Gone Going; Black Eyed Peas